Situated on the southern highlands of Bolivia, the vibrant city of Sucre has become a favorite destination for travelers worldwide. Its beautiful natural landscape, rich history, and bustling night-life all contribute to Sucre's well-deserved reputation as a must-see locale.
Sucre is a terrific place for backpacking too. While the terrain can prove rocky and challenging, the payoffs are more than worth the extra effort. Hikers can revel in the majesty of the Andes Mountains as they enjoy Sucre's lush parks or explore the world's largest salt flats.
Thrill-seekers and adrenaline junkies can even hike or bicycle "Death Road," known for its hairpin turns and mountain precipices. Called the most dangerous road in the world, "Death Road" has become a major tourist attraction.
Check out also: Best Hostels in La Paz
When the sun goes down, there are plenty of ways to enjoy your evenings in Bolivia's cultural capital. Dance the night away in one of the city's nightclubs, or spend a relaxing evening at one of Sucre's many local pubs. Sucre boasts all manner of pubs, from English-styled taverns to microbreweries and even wine-bars.
Because Sucre has become such a popular destination for backpackers and tourists, there are many hostels in and around the city. Following are six of the most popular:
KULTURBERLIN SUCRE
Book on Hostelworld Book on Booking.com
Conveniently located only two blocks from the city center and the Plaza 25 de Mayo, the Kulturberlin Sucre hostel offers guests an array of amenities including laundry service, a breakfast buffet, and a 24-hour front desk.
Guests may choose between private rooms and dormitories. A free luggage storage room is available to guests, and the Kulturberlin hosts a variety of evening activities including, but not limited to, a game night, weekly beer pong tournaments, dance lessons, and movie nights.
Nightclub on-premises

Restaurant on-premises

Roof Terrace/Gardens
The Kulturberlin Sucre hostel is child-friendly and credit cards are accepted. Twenty-four hours notice is required before cancellation. Visitors may check in any time before eleven pm. Checkout time at the Kulturberlin is ten-thirty am.
6 BEST HOSTELS IN MIRISSA FOR BACKPACKERS 2019
VIKTOR VINCEJ
SEPTEMBER 16, 2019
Mirissa is a small town in a beautiful scenic location on the south coast of Sri Lanka. From its exotic setting in the Matara District of Southern Province, Mirissa is about 150 kilometers south of Colombo with an elevation of four meters above sea level. This charming town's picturesque beach areas and vibrant nightlife make it an ever-popular travel and vacation destination.
With its stunning seaside venues and excellent restaurants, this intriguing locale captures the keen interest and hearts of backpackers and other visitors from around the globe.
Check out: Best Travel Websites for Flights, Hotels and Budget Travel 2019
Fascinating visitor sites are plentiful, and guests can enjoy relaxing, delicious meals, snacks, and beverages with other visitors in the friendly bars and cafes. Mirissa Beach has located nearby the southern tip of Sri Lanka and the natural beauty of the Indian sub-continent.
The ideal time to visit Mirissa is from November through April for full enjoyment of the outdoor life, scenic sights, and traveler discounts. Although there are many tourists visiting Sri Lanka during this time, weather conditions are good for sightseeing. Many visitors also report that the weather is fabulous in OFF-SEASON in mid-October. Since May and September are monsoon seasons, and many guest inns and hostels are closed, these months are best to avoid when planning a trip to Mirissa.
Attractive, friendly and relaxing hostels for an enchanting visit in Mirissa include the following top-rated recommendations:
Hangover Hostels Mirissa
Book on Hostelworld Book on Booking.com
For travelers with a passion for the joys of beach life, Hanover Hostels Mirissa is the very best place to book accommodations. Meet other friendly backpackers here and walk across the road to enjoy the continuous action and fun on Mirissa Beach. This is the perfect beach for surfing, swimming, diving, and snorkeling.
Visit gorgeous Secret Beach, a small secluded adjoining beach offering one tiny bar and an astounding sunset view. Many wonderful restaurants are available near the other areas of Mirissa Beach.
Other neighboring visitor destinations on the Sri Lanka coast nearby include Unawatuna, a colorful little beach town, and Galle Fort, the site of an old Dutch Fort with attractive stores for shopping.
After seeing the sights, visitors can return to the cost-saving luxuries of their hostel, including air-conditioned guest rooms, large storage lockers, soothing hot showers, reading lamps and digital device chargers. This hostel also provides electronic card-key room access.
This charming hostel offers the following benefits and luxuries for backpackers and other travelers:
Free WiFi
BBQ and Self-Catering Facilities
Safe Deposit Box
Housekeeping
Tea and Coffee Making Facilities
Board Games
JJ's Hostel
Book on Hostelworld Book on Booking.com
This inviting hostel is designed and arranged for a comfortable, relaxing stay for backpacking travelers. It also offers some touches of luxury at reasonable, affordable prices.
The dorms offer mixed and female-only accommodations with air-conditioning, extra-comfort mattresses, and pillows. Clean linens are provided, and other amenities for guests include private lockers, individual reading lights, and universal sockets. All dorms offer the luxury of spacious attached bathrooms, each of which has two showers and the convenience of a separate toilet.
Private rooms are equipped with air-conditioning or fans. Each large room offers attractive furnishings and decor with a queen-size bed, fresh linen, a writing desk, and stool enhanced by a verandah with a day bed, a coffee table and a stool.
Additional single beds are available at an added cost if needed. Guests can also enjoy a scenic rooftop terrace, a guest kitchen, a library, and spacious communal areas.
Highlights of this friendly, attractive hostel for backpacking travelers include the following amenities:
Free WiFi and Internet Access
Free Parking
Bicycle Parking
BBQ, Cooker and Microwave
Fridge with Freezer
Cafe and Restaurant
Laundry Facilities
Tours / Travel Desk and Airport Transfer
Currency Exchange
Check out some useful/MUST HAVE gadgets for backpackers:
THE CELTIC CROSS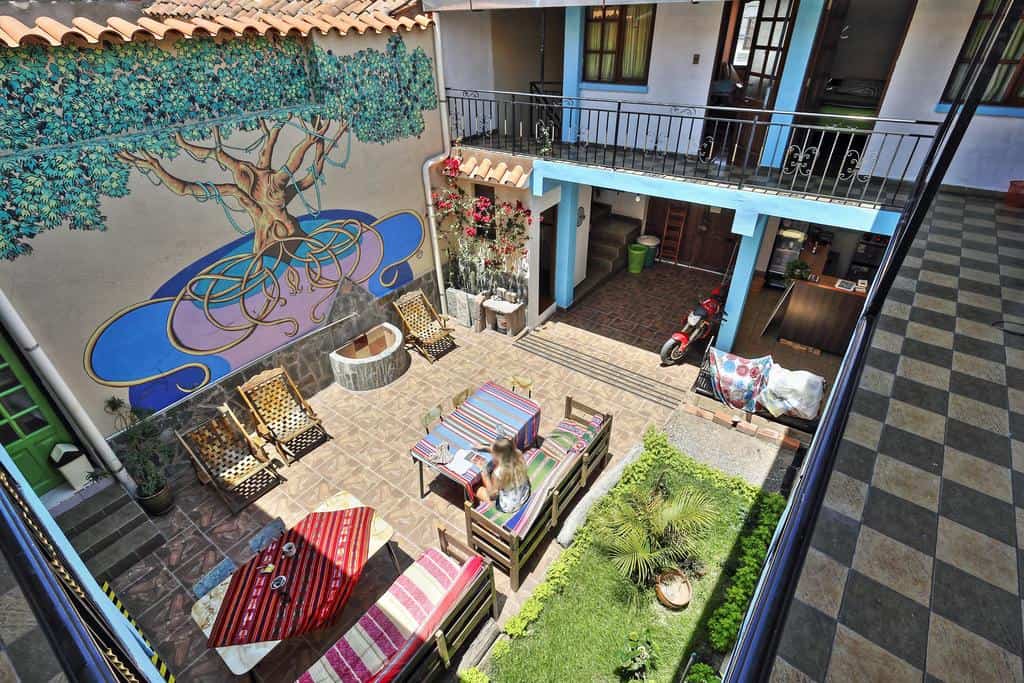 Book on Hostelworld Book on Booking.com
Centrally located in Sucre (walking distance to the Plaza 25 de Mayo and surrounding attractions) the Celtic Cross Hostel offers its guests a choice of either four, six, or ten-bed dorms.
The hostel provides free Wifi service and twenty-four-hour access to hot showers. Among the amenities offered by the Celtic Cross are Spanish Language lessons taught by professional, qualified instructors. Regular events are hosted here as well, including a weekly barbeque evening.
Rooftop Terrace/Sun-deck

Television Lounge featuring cable and sports channels

Spanish Language School
The Celtic Cross hostel does not accept credit cards, and there is a two-day (forty-eight-hour) cancellation policy in effect. There is no curfew at the Celtic Cross hostel. Visitors may check-in between eleven am and eleven pm, and must check out by eleven-thirty am.
VILLA OROPEZA HOSTEL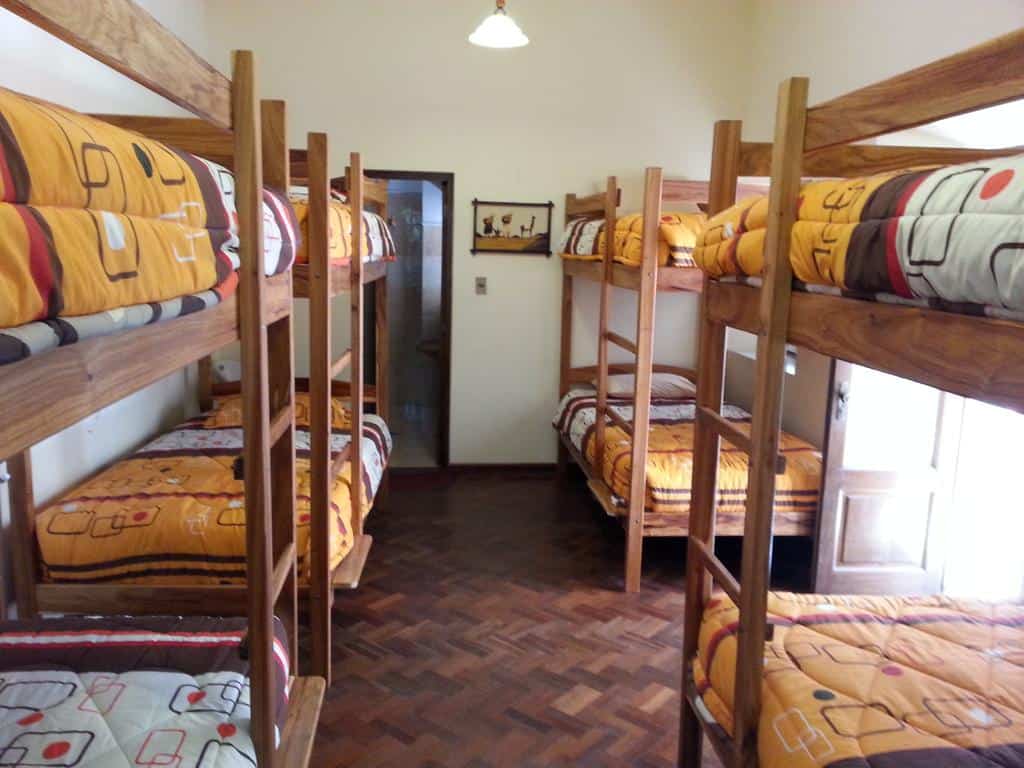 Book on Hostelworld Book on Booking.com
A mere three-minute walk from the Plaza 25 de Mayo and Sucre's city center is the Villa Oropeza hostel. Offering clean and spacious four, six, and eight-bed dorms, the Villa Oropeza provides guests the convenience of high-speed Wifi service and a fully-equipped guest kitchen.
The Oporeza hostel is conveniently located near the pubs and restaurants of the city center.
Rooftop Terrace

Garden

No curfew
No credit cards are accepted at the Villa Oporeza hostel, and there is a twenty-four-hour cancellation policy. Travelers staying at the Villa can check-in between the hours of one pm and eleven pm. Checkout time at the Oporeza is 11 am. Villa Oporeza's reception desk is open twenty-four hours a day to answer your questions or to schedule your next booking.
THE BEEHIVE, SUCRE
Book on Hostelworld Book on Booking.com
The Beehive hostel is located in the heart of Sucre, only minutes from the Plaza 25 de Mayo and the city center. Guests may book six, eight, and ten-bed dorms at the Beehive, all of which have 24-hour access to hot showers.
Free breakfast, travel arrangement services, and Spanish language classes are among the amenities offered. The Beehive hosts a number of group activities including movie nights, yoga classes, workouts, and walking tours. An inexpensive laundry service is also available.
Open, sunny courtyard

Free breakfast

Private or group Spanish classes
Credit cards are accepted at the Beehive hostel, and there is a two-day cancellation policy. Guests are asked to check-in between the hours of eleven am and eleven pm.
Checkout time for visitors staying at the Beehive hostel is eleven am.
LA DOLCE VITA BOLIVIA
Book on Hostelworld Book on Booking.com
One block from the Central Market and three blocks from the Plaza, La Dolce Vita is a small guesthouse featuring a guest kitchen and television lounge. This hostel provides clean, comfortable rooms, all of which feature Wifi service and 24-hour access to hot showers. La Dolce Vita is child-friendly.
Guests of this hostel may check-in between the hours of seven am and nine pm. Checkout time at La Dolce Vita Bolivia is eleven am. La Dolce Vita does not accept credit cards, only cash on arrival.
CASA VERDE BED AND BREAKFAST
Book on Hostelworld Book on Booking.com
from $60 / 3-private 4.4/5 Map
A recently renovated colonial house located in the heart of Sucre, the Casa Verde boasts the "amenities of an upscale hotel." Breakfast is included at Casa Verde, and guests may take advantage of a fully-operational kitchen.
A social dining room is also provided. The Casa Verde prides itself on its "exceptional, personalized service." The hostel offers free Wifi service throughout and is child-friendly.
Upscale amenities

Social dining room

Breakfast included
The Casa Verde Bed and Breakfast accepts only cash and has a one-day cancellation policy. The Casa Verde has a check-in time between noon and nine pm, and a checkout time of eleven am.
---
All of the abovementioned hostels are located in the heart of Sucre, within walking distance of the city's many historic buildings and, of course, the Plaza 25 de Mayo.
Located at the city's center, the Plaza is always alive with vendors, tourists, performance artists, and college students. The beautifully manicured Plaza 25 de Mayo is flanked on either side by two of Sucre's most historically and culturally significant buildings: The Casa de la Libertad and the Catherdral Metropolitana.
Once a Jesuit Chapel, the Casa de la Libertad is now celebrated as the place where the Bolivian Declaration of Independence was signed. The impressive structure is open to tourists and houses galleries that feature exhibits on the city's history. Directly across the Plaza stands the Cathedral Metropolitano. The cathedral's ornate renaissance architecture, vaulted roof, and sixteenth-century artwork make it a must-see for visitors to the area.
While in Sucre, travelers will want to experience the city's painstakingly manicured parks. With its many walkways and circular fountain, Parque Bolivar is the ideal place for an afternoon stroll. For a twist on the traditional park experience, consider the Parque Creatacico, which boasts preserved dinosaur prints.
If you're planning your next backpacking adventure in Sucre, Bolivia, be sure to consider staying at one of the vibrant and exciting hostels listed above.
The post 6 Best Hostels in Sucre, Bolivia 2019 appeared first on Traveling Lifestyle.