Amsterdam is one of the most traveled cities in the world. Amsterdam holds an appeal for everyone – gabled architecture and treasure-packed museums for history and art lovers, and vintage-filled shops for new-age travelers and plenty of free-spirited drinking and dining scenes to appeal to revelers! When in Amsterdam, be sure to stay at one of these budget hostels and save your money for other things.
Meininger Amsterdam City West
HostelWorld Booking.com Google Maps
Ratings: 8.8, based on 5153 reviews
Meininger is about a convenient stay, located as it is just a short distance from Sloterdijk Railway Station and the airport. As far as Amsterdam's hostels go, the Meininger is clean, has several fully-furnished rooms with bathrooms attached. Its lobby is full of old master-style art – a museum of sorts right there at the hostel. If you're looking for a convenient, conventional stay complete with local beers and other local specialties, then Meininger is one of the best budget hostels in Amsterdam.
Stayokay Amsterdam Vondelpark
HostelWorld Booking.com Google Maps
Ratings: 8.7 based on 6188 reviews
This hostel is located close to the Van Gogh Museum, the Leidseplein nightlife hotspot, and Rijksmuseum. It is situated in the middle of Amsterdam's famous Vondelpark, with Van Gogh Museum close by. The Leidseplein, with its bustling nightlife and its clubs such as Melkweg, Jimmy Woo, and Paradiso are but a short distance away. It overlooks Vondelpark as well. This hostel offers a nice mix of international visitors. Their Dutch breakfast has been very well received by the reviewers, with its cheeses, eggs, meats and more.
St. Christopher's at the Winston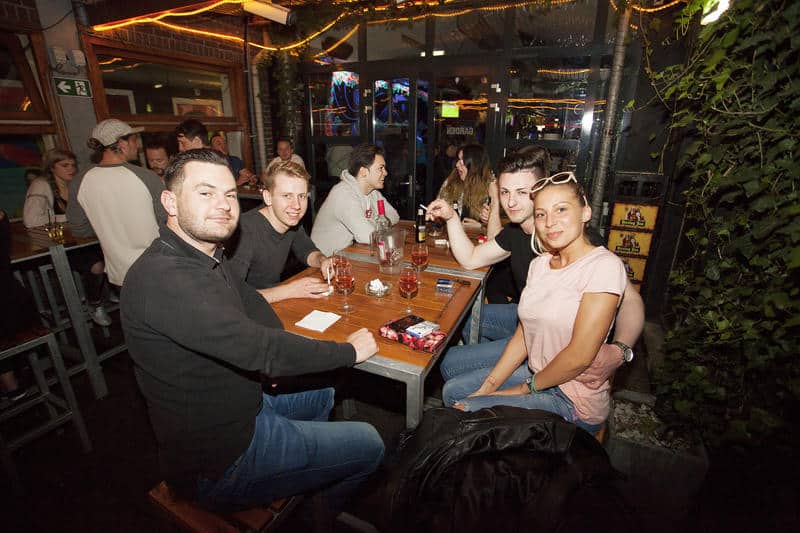 HostelWorld Booking.com Google Maps
Rating: 8.7, Based on 10543 reviews
St Christopher's at the Winston is a recommended stay for anyone who wants to be close to coffee shops and the Red Light district. This hostel was rated the most popular during the 2011 Hoscars. The hostel has a beer garden, a smoking area, and a bar. When you sign up, you receive 25% discount coupons on and 2 for 1 drinks at the lively Belushi's bar and restaurant. The hostel offers free walking tours as well as free earplugs. Free Wi-Fi and free continental breakfast complete the package.
ClinkNOORD
HostelWorld Booking.com Google Maps
Ratings: 9.0, based on 5290 reviews
ClinkNOORD is located in Amsterdam Noord, a culturally vibrant and bustling area which is a mere 10 minutes from Amsterdam Central Station. Full of modern Dutch-style interiors, ClinkNOORD has a causal, friendly and laid back atmosphere. This hostel offers both private rooms and dormitory accommodation. There's free Wi-Fi throughout the building. A great plus point is a value-for-money all-you-can-eat breakfast buffet at EUR 6.90. Housed in what was once a beautiful 1920's laboratory building, this hostel maintains its original décor, including a fabulous stained glass window. There are plenty of social spaces, including a library, and a spacious atrium, a bar and a café. You can hold events and meetings at this hostel, using their private catering for the purpose.
Generator Amsterdam
ostelWorld Booking.com Google Maps
Rating: 8.5, based on 5535 reviews
Generator Amsterdam is a hostel that truly understands traveler's needs. Apart from being design-rich, this hostel offers a 24-hour reception service with a manager who's always happy to help. There are friendly social areas with elevators, an outdoor terrace, and a raised café. There's also an impressive chill-out lounge and bar, plus a private events room. Dining rooms are located in the basement, and free Wi-Fi is available all over the building. 24-hour laundry service is available for washing, drying, and ironing. There's a secure luggage room which allows you to dump your shopping and head back for more. The hostel also provides Vanmoof bikes for rent, plus a 24-hour GenStore for exclusive Generator products.
Hans Brinker Hostel
HostelWorld Booking.com Google Maps
Ratings: 7.8, based on 6189 reviews
Hans Brinker Hostel is the place to go for a great atmosphere, free breakfast, cheap beds, and lots of fun. Located at the very center of Amsterdam, Hans Brinker Hostel can be found at the Kerkstraat, which is just around the corner from the center of Amsterdam's nightlife, Leidseplein. Hans Brinker Hostel is located just five minutes from the Museumplein, where many museums are located. Vondelpark is also nearby for relaxation as are several clubs, bars and restaurants. Cheap but hearty meals are served, and free Wi-Fi is provided at the bar and at the restaurant. There's an underground club as well, which stays open till 4 A.M.
Shelter City
HostelWorld Booking.com Google Maps
Ratings: 8.7, based on 13866 reviews
This is a Christian hostel located very close to the red light district. It is drug- and alcohol-free, and clean as a pin and offers great food. It is located at the center of Amsterdam, so if you want to explore the city, you're at a good starting point. It's a safe place to meet other backpackers and enjoy a free and delicious dinner that's put up some days of the week. The hostel is located next to Nieuwmarkt Square which is famous for a mix of cultures, and international restaurants, bars and cafes.
Hostel Van Gogh
Ratings: 8.3, based on 5722 reviews
Hostel Van Gogh is located in what can be termed as the best spot in Amsterdam centre. Right at the doorstep of the hostel, you can find three world famous museums – Van Gogh Museum, Rijksmuseum and Stedelijk Art Museum. Hostel Van Gogh provides free Wi-Fi access. There are LCD televisions in each room. Hostel Van Gogh is fully air-conditioned during summer. Each bathroom is equipped with hairdryer and free bend linen, free shampoo and shower gel and free luggage storage. There's an elevator available as well, and the icing on the cake is an all-you-can-eat continental breakfast buffet for 5 euros only. The breakfast has been highly admired and recommended by the reviewers.
Shelter Jordan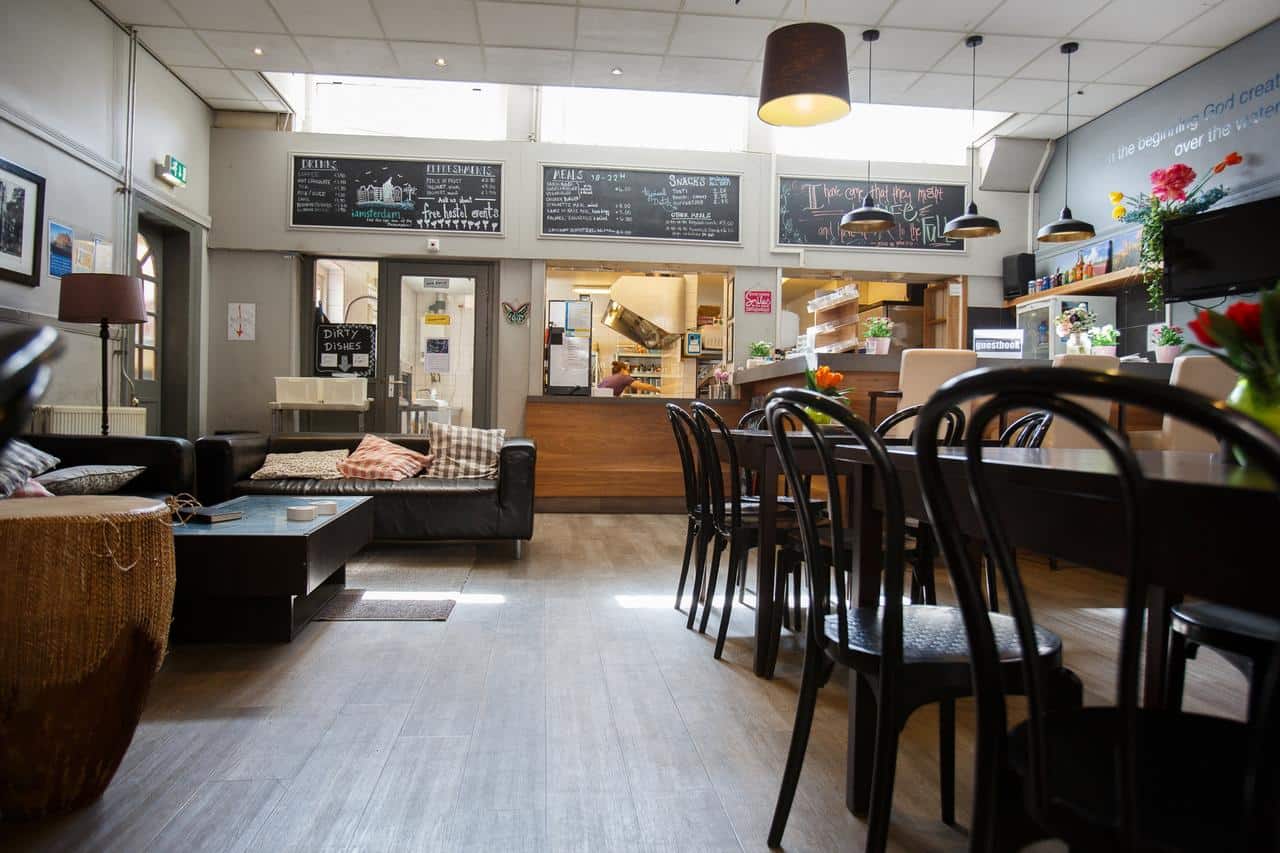 HostelWorld Booking.com Google Maps
Ratings: 8.8, based on 7515 reviews
Shelter Jordan is a Christian hostel, and therefore the no-drug and no-alcohol policy is applied there. Located close to Anne Frank House, Dam Square, Royal Palace, Museum District and central Amsterdam, this is a safe hostel for lone travellers. There are single-sex dorms on separate rooms, which spells safety for women travellers. The community area is warm and welcoming and people gather there during evenings. The hostel offers free breakfast as well, and lunches and dinners at a nominal rate. The Jordan area is full of secret hidden courtyards, charming streets and picturesque canals. The nearby street markets are lively, and the tulip and cheese museums are must-see. There are trendy boutiques and several restaurants and cafes also close to the hostel. The hostel is small, with no more than 100 beds; this creates a homely atmosphere where you can feel at peace. There's a pleasant courtyard garden where you can enjoy drinks with friends. The hostel cooks a homemade dinner each evening, sold at a nominal price that reviewers have appreciated while writing about Shelter Jordan.
The Bulldog
Ratings: 8.8, based on 4310 reviews
The Bulldog is one of Amsterdam's best hostels. It's located within steps of the Red Light district and the Dam Square. You cannot host stag or hen dos over there, but this hostel and its bar are fun and lively. Your trip to Amsterdam is not complete without a stay at this lovely canal side hostel. It has free Wi-Fi, multilingual staff, on-site security, lockers and bag storage, everything you can expect from a good hostel. Its location is perfect – you can walk to all points of interest at Amsterdam from it. The icing is the lovely rooftop terrace, with great views of the Oude Kerk. The local is so beautiful, it's well worth obtaining the Schengen Tourist Visa just for that.
Conclusion
Amsterdam is every freedom-loving, party-loving traveler's dream come true. It is also every art lover's dream come true, with its beautiful museums, architecture, and parks. Amsterdam is an expensive city so it makes sense to stay at a hostel instead of breaking the big bucks on a hotel. Use our list of the top reviewed hostels in Amsterdam to make your stay choice while in Amsterdam.
The post 10 Best Hostels in AMSTERDAM for Backpackers (SUMMER 2018) appeared first on Traveling Lifestyle.